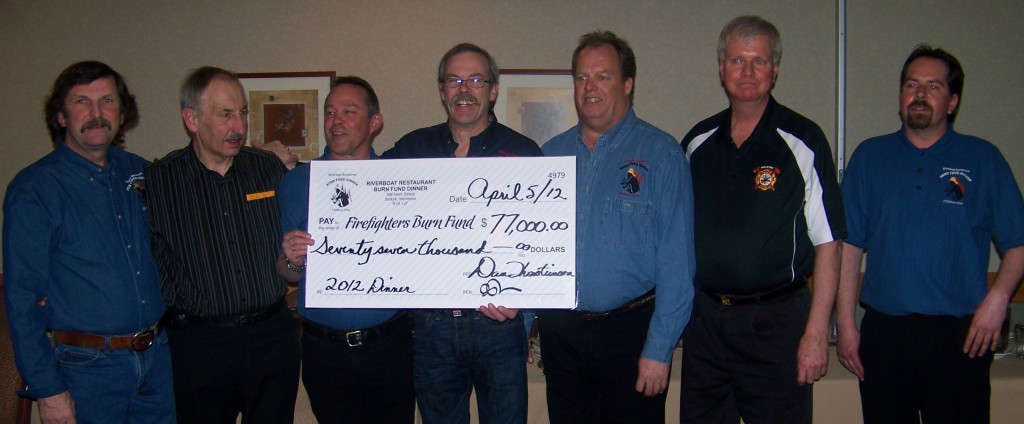 March 11, 2012 Dinner total and Committee Members: L-R:  Rickey Lloyd, Burn Fund Chairman Martin Johnson,  Doug Poirier, Dan Thorsteinson, Justin Goodmanson,  Lorne Hokanson and Jason Hokanson. Missing: Roger Myall

About 21 years ago, in 1991, Doug Poirier, owner of the Riverboat restaurant here in Selkirk had indicated several times to me that he would like to do a wildlife dinner someday. I was a 7 year member of our fire department and as such, understood somewhat about the integrity of the charity called the Firefighters Burn Fund of Manitoba. The last time Doug expressed his desire to have such a dinner I said that I would help out to the end if he would consider turning it into a fundraiser for the burn fund. He agreed and before you knew it the Dan Thor, (our fire chief) Rick Hook and Roger Myall became the hub and drive system for the Riverboat Restaurant Annual Burn Fund Dinner.
The first annual dinner was not very well attended and there was lots of unused space in the restaurant that Doug had shut down for the event, but as years went by and word got out we realized that the restaurant and lounge was no longer large enough for all our $50 ticket holders, so the dinner spilled out into the mall as well. The dinner has turned into a major event for Selkirk and is attended by about 250 mostly repeat patrons. After a while we picked up another committee member, local food services talent and friend, Rickey Lloyd. Also joining the effort and adding some "polish" was Chef Carl Oman, Food Services Instructor at Red River College and Chef Eldon Brink of Holiday Inn South, both from Winnipeg. Later in we acquired two more members with food service backgrounds,  Justin Goodmanson and Jason Hokanson. The dinner turned into a big event for Selkirk and by the last dinner was attended by 425 hungry and mostly repeat patrons.
The food ranges from anything that can be found locally like all sorts of wild game and fish to wild mushrooms and fiddleheads and then on to exotic dishes like shark, alligator, conch and whatever we can get our hands on. The buffet is almost too big to try everything. With a multitude of help from as many as 50 volunteers and plenty of generous sponsors, we were able to pull the event off every year.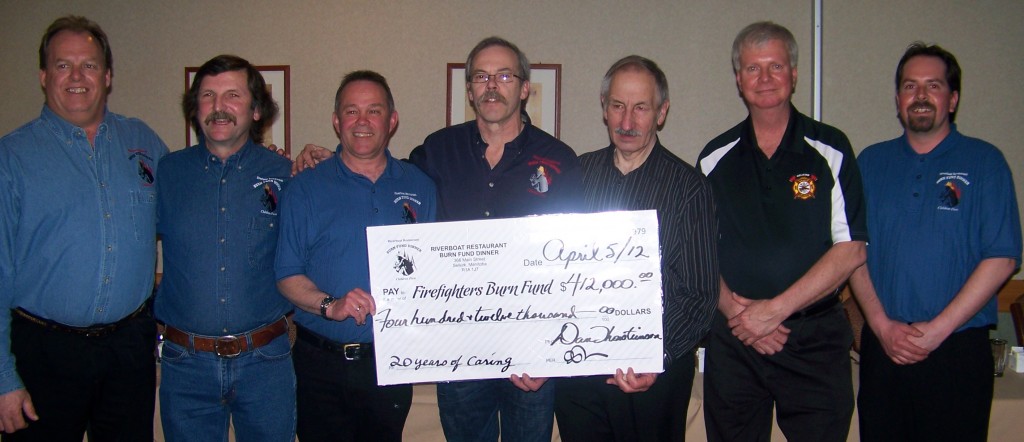 Committee Members:L-R: Justin Goodmanson, Rickey Lloyd, Doug Poirier, Dan Thorsteinson, Burn Fund Chairman Martin Johnson, Lorne Hokanson and Jason Hokanson. Missing: Roger Myall

For our last dinner we were able to hand over $77,000 for a twenty year running total of $412,000, which was all used by the Burn Fund for care, research and education. The committee is very satisfied with the level of support the dinner enjoyed.
Submitted by:  Firefighter and Dinner Committee Member Lorne Hokanson